From the 6th to the 15th of May we were at Montréal for the Libre Graphics Meeting 2011.
These were intense days and we ended up not managing to post while still there.
As a result we got home with a big list of stuff we had done in our heads and just decided to write it down quickly to share.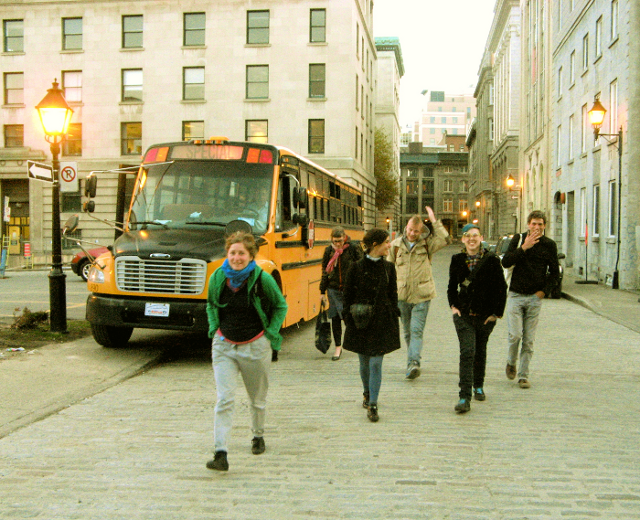 Here is the list of some of the things we did while at Montréal:
Discovered a very simple and powerful stop motion animation software called Toonloop. The main developer, Alessandre Cressy, hosted a pre-LGM workshop and an LGM talk on this wonderful tool.

Rented Bixis (Montréal rental bikes): best way to get to know the city. Had a nightmarish experience to find a parking spot after 00am.

Debated on the theme of Tools with Eric Schrijver, Peter Linell at StudioXX. This was also the motto for a poster exhibition curated by ginger coons for the LGM week.

Learned to sew with Susan Spencer. And started an automated tool to generate patterns using a graphical user interface.

Assisted a full afternoon of drawing Famous People for the Open Clip Art Library.

Got blown out once again by Tom Lechner's presentation on Laidout.

Presented one year of Libre Graphics Magazine; offered copies of issue 1.1; sold copies of issue 1.2 and released PropCourier on Open Font Library.

Got interviewed for the Creative Commons blog about the Libre Graphics Magazine. The set was the living room of our rented apartment: me, ginger and Ricardo seated in a luxurious white leather couch. Update: watch the interview here.

Met Matt Lee, from the Free Software Foundation; Christopher Allan Webber, from Blender and Creative Commons, who gave the awesomest talk about Python scripting in Blender!

Ate delicious minestrone cooked by Femke; portobello burgers cooked by John Haltiwanger; vegetarian pataniscas with naughty tomato rice and spinach by me and Ricardo; and delicious vegan pie with mushrooms and soy gravy cooked by ginger.

Broke a coffe machine, a toaster and the back door to our apartment (all fixed in time).

Fixed the back door with the wise help of Martin Owens.

Had the chance to meet Michael Mulley, the person behind the openparliament.ca website.

Presented Shoebot at the Montréal Python User Group meeting.

Biked, bused, metroed and walked all over the city of Montréal.

Visited John Lovell's printing house.

Planned a year ahead of Libre Graphics Magazine.

Stole a selection of five hilarious city postcards from ginger to mail home before leaving to Porto.

Bought maple syrup planning for a delicious pancake afternoon with friends in Porto.

Got some serious advice about work and business attitude from Pierre Marchand.

Tried out Pierre Marchand's Fonzie. A program to generate typefaces from drawings. It works!

Rode a school bus with a bunch of LGM geeks.

Attended the book launch Paying for it, by Chester Brown at Drawn & Quarterly's bookshop.

Got a private Krita introduction by Boudewijn and AnimTim. Looking forward to do beautiful work with it.

Ate bland cantine food at the Polytechnique and experienced two extraordinary gourmet dinners by chef Beaver.

Stumbled upon the braveness of the OSP with their Sans Guilt font. Serious design thinking and acting, lead by Femke Snelting, Ludivine Loiseau, Pierre Marchand and John Haltiwanger.

Saw ginger present the eulogy of Open Colour Standard.

Managed to carry home 40 copies of issue 1.2 of Libre Graphics magazine. Dear subscribers, we'll send you your copies this week!

Finally understood the reason to Aloe Blacc's song I need a dollar when getting on 747, the shuttle bus to Montreal airport.

Got home full of energy. It indeed was a great week.

We shared some photos of this week here.